What Makes Reyna Rose Special?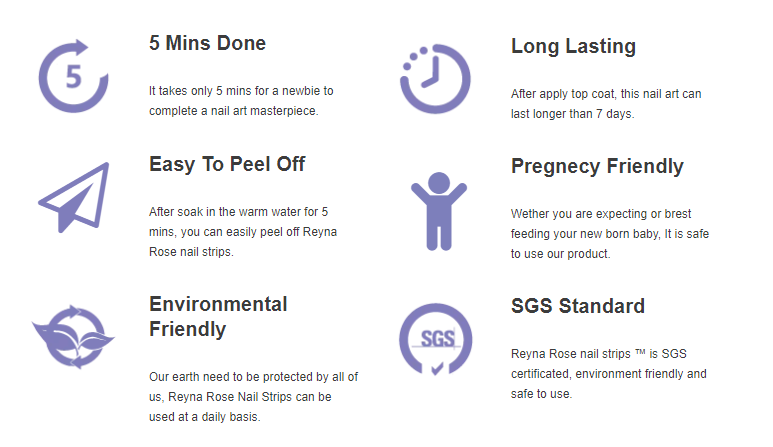 Frequent Asked Questions
Q: I am horrible at crafting/ DIY, are ReynaRose Nail Strips newbie friendly?
A:Yes, simply follow our instruction, you litterally need no manicure skill.
Q: Do I have to wear top coat after ReynaRose Nail Strips?
A: No, you don't have to, but wearing top coat would make your nail strips last longer.
Q: Can I wear ReynaRose Nail Strips if I am pregnant?
A: Yes,our product passed SGS standard, it is safe to use for pregnant Ladies
Q: Can I buy Reynarose Nail Strips for my children to play with?
A: Yes, as long as your kids are 8 years or older, and make sure your kids do not eat them.
Q: Will Covid-19 affect shipping?
A: We will process orders in 2 business day, and we only work with local express carrier, so as to reduce delay rate caused by covid-19, you can find out average delivery time in your country from our shipping page.
Q: Where are the order shipped from?
We have local warehouse in Hongkong, London, Los Angeles, Melbourne and Berlin. We usually ship from nearby warehouse, but if we are short of storage n local warehouse we will ship from out side your country.
Q: How long does it take for my delivery to come?
You can check in our shipping page to check average delivery estimates, during this period it usually takes 7-15 days to US, Oz, and most European countries.
Q: What is your warranty policy?
We offer free canceling before your package is shipped. We also offer free return if there is quality issue within 30 days of delivery. free free to contact our customer service for more info: contact@reynarose.com
Q: How can I track my package?
After we process your order, you will receive an email of your tracking number, with which you can track from our shipping page.
Q:
 How to contact us?
Email: contact@reynarose.com
               Mailing address
               1125 Plymouth Ave, 94112, San Francisco
               US